Which HID Light Should I Use?
So you want to install HID lights
in your car, but which one do you need?
At AudioMotive there are several HID lights to choose from so it's important to get the right one for your car. Xenon and Bi-Xenon are the two most often confused. Both headlights use Xenon light bulbs, but the difference lies in how many light bulbs are used. Whereas Xenon lights use two bulbs per headlight, Bi-Xenon lights only use one.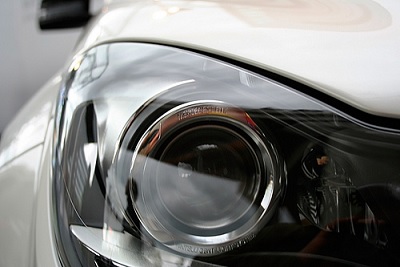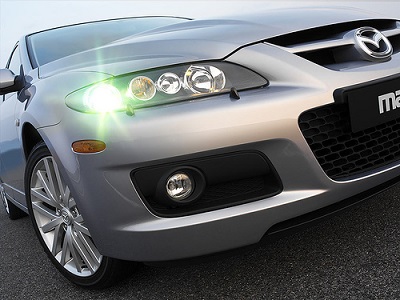 Xenon HID Lights
Xenon's two light bulbs are aimed in different directions with one for high beam and the other for low beam. High beams are used to increase visibility when you are alone on the road in poor driving conditions or winding roads. These lights allow you to anticipate what lies further down the road. Low beams are required when it's dark outside, usually from evening to dawn. With Xenon lights, you switch from one bulb to the other depending on the conditions.
Bi-Xenon HID Lights
With Bi-Xenon lights, one bulb switches back and forth between high beam and low beam. When the driver puts on the low beams, the light becomes partially covered with a moving shutter. When the headlight is changed to high beam, this cover is removed so that the full HID light can shine through.
Benefits of HID Lights
Overall, Xenon HID headlights carry many advantages when compared with halogen lights. Because the light emitted is like daylight, night driving visibility improves and is therefore safer. The range of HID Xenon lights is broader, which allows you to see what is ahead of you. In addition, the light's low energy consumption and high durability make them an excellent investment.
Why go with Audio Motive's HID Xenon and Bi-Xenon Lights?
Increased light output (up to three times the light when compared with standard halogens!)
Up to 70% more road coverage
More efficiency with 24% less power used
A more luxurious look and feel to your car
When choosing someone to install your HID lights it's always best to have a trusted specialist. AudioMotive's specialists have an average of 15 years of experience in automotive lighting and accessories. We're also the largest supplier of HID kits in Ontario. When you get your HID lights from AudioMotive, you can be sure that brand name components will be used to ensure a longer life for your HID bulbs. Don't be persuaded by competitors to choose the less expensive generic bulbs as they tend to leak Xenon gas and therefore have a shorter lifespan. All AudioMotive kits are tested for Ottawa's climate, warranty-backed, and price matched to ensure that you get the best deal in Ottawa. Choose AudioMotive for high quality HID Xenon lights.
Get a Quote for HID Lights now!