Maximizing Your Car's Sound System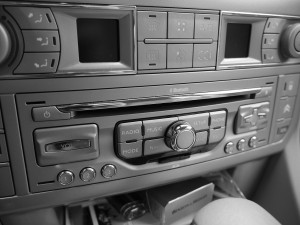 Music is amazing; it can make a bad day good, a boring party exciting and a moment unforgettable. In today's world we spend a good chunk of our time in our cars; commuting to and from work, waiting in drive-throughs, picking up friends, etc. It only seems logical to have a quality sound system. Give your ears what they deserve and install a superior sound system today.
Installing a sound system can be a difficult task, so leave it to the professionals. They're the ones who have the expertise and know-how to properly install your car stereo in Ottawa.
Traffic in Ottawa can be unbearable at times. Having a quality car stereo in Ottawa can ease the pain of sitting in traffic. When it comes to installing a superior sound system in your car there are a few things you need to take into account: quality, capability and performance. Follow these basic tips to give your audio system the boost it needs.
What the Deck?
You must have a quality head unit capable of supporting your speakers, subwoofer and amp. The deck is what ties everything together. Without it you have nothing more than some wires and a box. Purchase a deck that has CD, AUX, USB, MP3 and Bluetooth capabilities for the best listening experience.
High-Performance Speakers
High-quality speakers are an intricate part of a superior sound system. You want your music to be as crisp and clear as possible. Especially if you have a subwoofer in your trunk, which can easily overpower your speakers. There are audio shops that offer high-powered speakers for your car stereo in Ottawa.
The Right Subwoofer
Different subwoofers will produce different types of bass. When purchasing a subwoofer you have to know which kind of bass you want. There are a variety of subs that offer different listening experiences. Ask an expert which sub is right for you.
Power Up
Your amp is what powers your whole sound system. You want to make sure that your amp is powerful enough to support your sound system; otherwise your system won't run at full capacity. Purchase a capacitor for your system; it acts as mediator between your amp and your car battery. This way you're not constantly draining power from your battery.
Strong Box
A well-built box with low quality subs will sounds clearer and louder than a poorly built box with top of the line subs. Having the right box for your subwoofer makes all the difference in the world. Make sure you purchase a well-built, solid box to ensure your subwoofer produces at its full potential.
Installing a car stereo in Ottawa can be an expensive process when you take into account labour and parts. Luckily, there are a number of specialists that can install your car stereo in Ottawa for a fair and decent price. In short, a sound system is a great way to ease your stress, please your ears and make your driving experience as enjoyable as possible.