Why You Should Tint Your Car Windows in Winter
Auto Tinting Improves Your Winter Driving Experience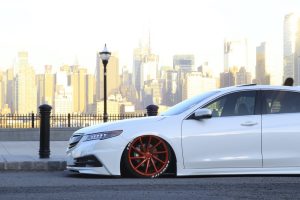 During Ottawa's cold winter months, driving can be a chore. Before you can even leave your driveway, you must warm up your car, clear your windows of ice and snow, and shovel your driveway. And once you are on the road, you have to deal with poor road conditions and visibility.
But did you know tinting your car windows can help ease the stress of winter driving? It can also keep you warmer during those cold days on the road.
Here are just a few reasons why you should think about auto tinting for the winter:
More Insulation
Window tinting and films provide a layer of insulation on your windows that help keep the heat in during the cold winter months. This extra insulation means it will take less time to warm up your car!
By tinting your car windows, you can start driving sooner on those frigid mornings, and your car will heat up faster so you aren't shivering while you're driving. A warmer drive will make for a better start to your day!
Better Visibility
Winter is a horrible season for road visibility and driving conditions. From snow squalls to the glare from the sun reflecting off the snow, it can be hard to see the road. The sun's glare is worse in the winter, since the snow reflects the sunlight directly into our field of vision.
With poor This poor visibility makes it even more dangerous to be on the road during icy winter conditions. Auto tinting reduces glare from the snow and from oncoming headlights, so you can drive safer, especially when the roads are at their worst.
Less Fade
Not only does auto tinting protect passengers in the car from UV rays, but it also prevents the colours inside your vehicle from fading. This protection maintains the condition of the interior of your vehicle, so it will look new for longer.
Whether it's winter or summer, you probably don't want your car's interior to fade. Car window tinting protects the inside fabrics of your car from the sun's harmful UV rays. If you ever decide to sell your vehicle, its good condition will help with the sale price.
Although winter is long and dreadful at times, you can improve your driving experience with auto tinting. Not only will your vehicle be warmer and maintain its interior appearance, but you'll be able to stay warmer, see better, and drive safer in even the worst winter weather.